In my years of experience as a holistic health practitioner, I have seen more people successfully support their thyroid health naturally than any other area of their health. It is very possible and not very difficult! And it's VERY important to do PROACTIVELY and PREVENTATIVELY as so many health issues could be avoided with supporting thyroid health this way!
Your thyroid gland is responsible for maintaining so many functions of your body including metabolism, body temperature, and so much more.
Here are some of the most helpful supplements I have found to help ensuring healthy thyroid function:
Thyroid Minerals
First and foremost, naturally supporting thyroid health means three main minerals: iodine, selenium, and zinc.
Brazil nuts are a great source of selenium! 2-4 Brazil nuts per day will provide a day's worth of selenium (nutrients vary depending on soil grown and other factors).
For iodine, check out Thyromin below which offers additional thyroid support and/or my other preferred iodine supplement is Nascent Iodine drops from Radiant Life.
Thyromin
Thyromin™ is a special blend of porcine glandular extracts, herbs, amino acids, minerals (including iodine), and therapeutic-grade essential oils in a perfectly balanced formula that maximizes nutritional support for healthy thyroid function.* The thyroid gland regulates body metabolism, energy, and body temperature.
Ingredients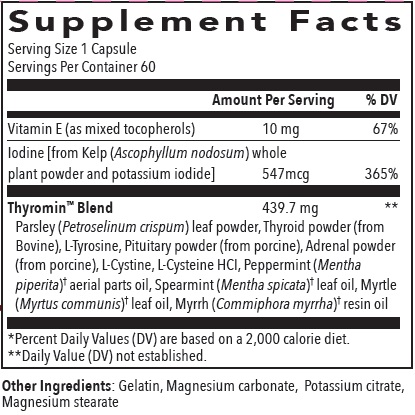 As you can see, Thyromin contains a higher dose of iodine for those whose thyroid needs more support than the iodine in HFFG's Thyroid Support. In this case, these supplements can be taken together for a very beneficial effect.
I have seen this supplement alone do wonders for many clients, including those who made no other changes. (Of course lifestyle changes are very important; see below for more info.) I cannot recommend this enough for those who need thyroid help.
Notes:
*For those with autoimmune thyroid disease, please consult with your healthcare provider before using ANY supplements containing iodine. Those who have Hashimoto's with thyroid antibodies over 100 should not take supplemental iodine.
**If you choose to avoid pork, you will want to reconsider using this product as it contains porcine extracts. (I will say, however, that with the difference I've seen in clients' thyroid health after taking this, it may be worth compromising on that!)
Probiotics
Probiotics, are an essential part of supporting any part of our health! One specific reason why probiotics are important for supporting thyroid health is that some of the thyroid hormones and minerals depend on a healthy gut for helping the body convert and utilize those things.
A whopping 20 percent of thyroid function depends on a sufficient supply of healthy gut bacteria to convert T4 to T3.

https://drknews.com/good-thyroid-health-depends-on-good-gut-health/
My family uses probiotic-rich foods (consuming homemade lacto-fermented vegetables, homemade raw milk kefir, etc. daily) as well as high-quality, allergen-free probiotics that I private label from the manufacturer. (I am only able to offer them by the case at this time. Please click here for more information.)
Click here for my post on Probiotics and Fermented Foods for more information on this incredible and very inexpensive way to get gut-supporting bacteria through delicious foods.
Master Formula
Master Formula is a full spectrum, multinutrient complex, providing premium vitamins, minerals, and food-based nutriment to support general health and well-being. By utilizing a Synergistic Suspension Isolation process – SSI Technology – ingredients are delivered in three distinct delivery forms. Collectively, these ingredients provide a premium, synergistic complex to support your body.*
Primary Benefits
• Naturally supports general health and well-being for the body • Gut flora supporting prebiotics • Ingredients help neutralize free radicals in the body • Includes antioxidants, vitamins, minerals, and other food-based nutriment • Pre-packaged sachets are convenient to take your vitamins on the go • SSI Technology delivers ingredients in 3 forms chosen for their complementary properties
Master Formula Product Information Page
Master Formula will help fill in the nutritional gaps of the nutrients needed to support thyroid health, such as selenium and zinc which are CRUCIAL for supporting the thyroid. Master Formula contains more selenium and zinc than many other whole-foods multivitamin formulas out there which I was very excited about as most multivitamins contain inadequate amounts to properly support thyroid health.
(*Important note: Up to 400 mcg of selenium should be taken daily with any iodine supplementation.)
Thyromin, EndoFlex, and Master Formula are available through Young Living. You can order as a retail customer or as a wholesale member and pay 24% off the retail price. You can click here for more information about the benefits of being a member.
Dietary & Environmental Support for Thyroid Health
There are also some dietary and environmental recommendations that I find to be helpful for everyone wanting to support their thyroid health. These include:
Testing
If you would like to assess where your thyroid health is at, you can click here for more information on the home test panels I offer. Remember--conventional doctors usually only test TSH which is not an accurate indicator by itself of thyroid health. Additionally, they use old parameters that are inaccurate and even dangerous. I offer a personalized analysis and recommendations of test results to those who order home test panels through my website.
Despite what others may tell you, you CAN support your thyroid health naturally!
Blessings of good health,
~Sara Jo Poff, #1565710
Holistic Health Practitioner